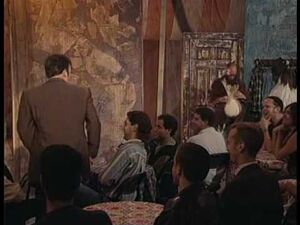 "Now Who Wants Ice Cream?" is the first episode of the second season of Mr. Show.
Aired in November 15, 1996 and had 12 sketches.
Cabin In Woods (Cold Open)

Sovereign Nation (Open)

Mountain Dougie (Part 1)

Peterson Family News (KPFN)

Miracles (Link)

Thrilling Miracles

Ernie Flies

Mountain Dougie (Part 2)

Shampoo

F.F. Woodycooks

Independent Nations Games

Old Man In House (Tag)
Ad blocker interference detected!
Wikia is a free-to-use site that makes money from advertising. We have a modified experience for viewers using ad blockers

Wikia is not accessible if you've made further modifications. Remove the custom ad blocker rule(s) and the page will load as expected.