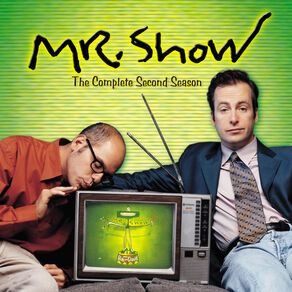 Season 2: 1996
The second season began on HBO on November 15, 1996. The season was released on DVD June 4, 2002 as disc 2 of Mr. Show: The Complete First And Second Seasons. The only bonus feature on the DVD is commentary on all 6 episodes.
List of Episodes
Edit
.
Designation
Title
Airdate
Sketches
201
Now Who Wants Ice Cream?
November 15, 1996
Cabin In Woods (Cold Open)
Sovereign Nation (Open)
Mountain Dougie (Part 1)
Peterson Family News (KPFN)
Miracles (Link)
Thrilling Miracles
Ernie Flies
Mountain Dougie (Part 2)
Shampoo
F.F. Woodycooks
Independent Nations Games
Old Man In House (Tag)
202
A Talking Junkie
November 22, 1996
David Acts English, Rap (Open)
Talking Junkie
New Son
Red Balloon
Mom & Pop Porn Shop
Ewww Girl Video
Video Soul
Rap! The Musical
Homage Awards
Creepy Peeping Videos (Tag)
203
The Biggest Failure in Broadway History
November 29, 1996
Beating Hippie (Open)
No Adults Allowed
No Slackers
New KKK
Ad Awards
Mob Chase (Link)
Drunk Cops
Iguana
Pet Funeral (Link)
Jeepers Creepers
Hippie Pie (Close)
Hippie Pie (Tag)
204
If You're Going to Write a Comedy Scene,You're Going to Have Some Rat Feces in There
December 6, 1996
Mr. Show Corporation (Open)
Child Labor Writers' Room
Van Hammersly
Gay Son
Major Stockholder Interrupts (Link)
Grass Valley Greg
Downsizing
Big Boss (Link)
Bhopal / Newsreel
New San Francisco
GVG Cleans
Bhopal (Tag)
205
Operation Hell on Earth
December 13, 1996
Young Superstar (Open)
Old Folks' Home
Deprivation
Hate Group
News Family Anchors
Recruiters
Blame-A-Thon (Link)
Fartin' Gary
Second Wind
Older Superstar (Close)
206
The Velveteen Touch of a Dandy Fop
December 20, 1996
Charity / Blind Gary (Open)
Subway
Donut Shop
Megaphone Crooners
Greenlight Gang (Movie Execs)
Coupon: The Trial
Coupon: The Movie
Credits Testimonials (Close)
Ad blocker interference detected!
Wikia is a free-to-use site that makes money from advertising. We have a modified experience for viewers using ad blockers

Wikia is not accessible if you've made further modifications. Remove the custom ad blocker rule(s) and the page will load as expected.